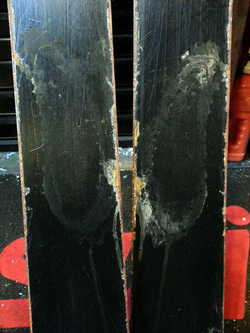 Have you ever put your skis away for the summer months only to pull them back out in the fall looking like this picture? Don't worry, you aren't the only one. Most of our tuning services in November and December consist of trying to bring life back to those skis and boards left exposed to the elements for several straight months. The damage that this does goes deeper than a little rust, in fact the rust is the easy part. The hard part is re-conditioning the base material so that it can hold on to the wax again.

Ski bases are (for the majority of skis/boards) a porous plastic that is designed to be able to absorb wax. When the base is left exposed for long periods of time, the material oxidizes and those little pores shrink up, making it much more difficult for wax to penetrate the base. This is why getting your skis waxed once a season is pretty much a waste. The good thing, though, is that keeping this from happening is a fairly simple process.

Summer-izing is simply a normal tune where you clean base, sharpen and polish the edges, and repair any damage. Unlike a normal tune, however, you coat the base and edges with an extra thick coat of wax and don't scrape it off. This not only leaves plenty of time for as much wax as possible to penetrate the base material, but it also protects the base from drying out and the edges from rusting. The best part is that next fall, all you have to do is bring your gear in for a quick scrape/polish and you're ready to go. This not only makes your early-season prep more efficient, but your gear will last longer.