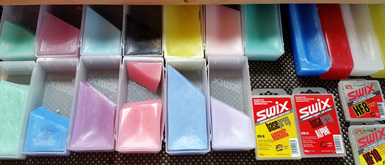 Probably the largest misconception in ski/snowboard tuning is that ski wax is all the same thing. If this were true, shouldn't we all be going as fast as world cup downhill racers every time we pointed our tips down the mountain? Let me give you an idea of the scope of the wax world: SWIX alone produces around 150 different types of wax, and that's just SWIX! Other companies like TOKO, SVST, Wintersteiger, etc... have plenty of variety in their wax lines as well. Even "Universal Wax isn't actually universal. Here at our shop, we have 4 different types of "Universal" wax. This might get a little technical for a minute, but I'll go over the 3 main categories so you can understand the majority of what's out there and why it's important.

Hydrocarbon:
This wax is the most common because it's the most economic and it gives you good performance in many conditions. Most universal waxes that you get from ski shop are a hydrocarbon wax.

Fluorocarbon:
This wax is generally more expensive, but delivers considerably better performance, especially in moist or humid conditions due to it's ability to better repel water. The price of the wax depends on the amount of fluorocarbon in it. It can be a relatively low percentage for a reasonable price, or crazy expensive for the pure fluorocarbon powder race wax, which is basically rocket fuel for your skis.

Dry-Lubricant:
This is also generally more expensive and for good reason. Dry-lubricant additives like graphite or molybdenum are combined with either a hydrocarbon or fluorocarbon base, and have the ability to repel and glide on particles in the snow, such as dirt or man-made ice crystals. This stuff is excellent for early and late season conditions.

Wax can also be blended and combined to get just the right formula for the day. However, remember that you're relying on weather forecasts that aren't always perfect, and snow conditions in an ever-changing environment. Don't beat yourself up if you miscalculate and end up with more grip than glide. It happens.. Keep experimenting, have fun, and most importantly: get out there and ride!