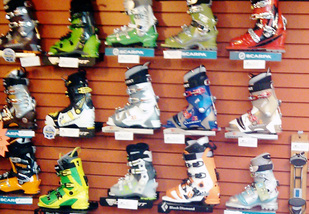 You might think that there are many answers to this question, such as the weather conditions, the amount of snow, and even how crowded the slopes are can each make an argument. There's only one thing, however, that can make your day wonderful or miserable completely independent from every other factor. What is this magic skiing element, you ask? For the answer, simply ask your feet.

Let's set the scene: It snowed 2 feet overnight and it's a blue sky day. There's no crowds, and you have brand new powder skis that are expertly tuned. Just one thing; your feet are miserable because your boots don't fit right. Still think you're going to enjoy the day? Probably not. That's why choosing the right boots is more important than any other piece of your equipment.

Here's a couple tips to get you started:

Brand loyalty won't necessarily get you the right boot

You might be a Rossignol fanatic, but you also might be cramming a square peg in a round hole. Most of the big-name brands carry a similar level of quality, but what differs is the shape of the boot. For example, a Rossignol and Salomon boot might have the same size last, but the widest point hits your foot in different places. Or, the overall volume might be the same, but one is bigger in the toe and the other in the arch. Bottom line? Go with the brand that fits you best, then narrow it down from there.

Know what type of fit you're looking for.

The size of the boot will have a big impact on both performance and comfort, so choose wisely. A more performance oriented size will be tighter all around. You gain better energy transfer but lose circulation, and contrary to popular belief; boot liners don't warm your feet, blood does. The more compression, the less blood gets to your toes, and the faster they go numb. The comfort fit gives your feet some room to breathe, but you get that little bit of slack before you can start driving the ski. It's up to you which benefit is more important.

Pick the right amount of flex for your style.

The stiffness of the boot can play a big role, not only in the overall performance, but in how well you can improve on your skiing. Think of your boots as the mediator between your legs and your skis. You don't want any of the energy you're putting into your boots to get lost on its way to your skis, but you also don't want your boots to make your skis stubborn and difficult to control. The trickiest place to be is an intermediate skier. Pick a boot too soft and have all the forgiveness in the world, but never be able to learn to truly drive the ski. On the other hand, a stiffer boot is a great tool to help you become a better skier, but if you're not ready it can make your skis difficult to control. You know your comfort level better than anyone, so make sure you give it some thought and not just go for the flashiest boot on the wall.