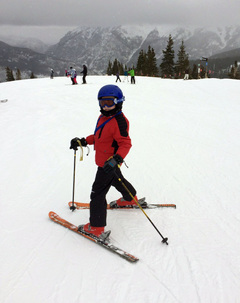 Have you ever experienced a ski school class weaving back and forth across the slope, taking up nearly the whole trail, or wondered where the parents are when a 4 year old cuts you off, breaking the laws of physics with how fast he's going in a wedge? Many might find these instances annoying, but really they are an encouragement. They mean that snow sports have a future.

One of the more common questions I get is "Is it worth it to get my kids' skis tuned? Will they even be able to notice a difference?" The answer depends on what it is you're trying to accomplish. If you think that your 6 year old will notice the difference between 0.5 or 1 degree base bevel, or whether his skis have Universal or temp specific wax, probably not. However, if you think your kid will notice that his skis turn when he wants them to and slide without jerking around, you bet he will. So would you rather make skiing easier to learn and more fun, or spend the day with a struggling, frustrated child on top of a mountain? Sounds like there's an obvious choice in there.

For a child, there are subtle, but monumentally important differences in how you tune the skis compared to an adult. A typical tune is for someone with developed reflexes and who is strong enough to manipulate and control the skis in varied terrain. Let's be honest, most kids can't do that. Plus bundling them up for a cold snowy day doesn't help the situation. The skis need to be geared for someone who spends most of their time in a wedge, making sure they're forgiving enough to learn the proper techniques but smooth enough to keep the frustrations to a minimum. (And not just the kid's frustrations either...)

So next time you're planning a family ski outing and thinking about taking your skis into the shop to get them tuned, maybe bring the little skis along and help make skiing that much more fun to do together.