Once again, we were able to attend the annual Snow Show in Denver to see the gear coming out for the 2015/16 Season. Just to give you an idea, there are over 600 different brands exhibiting at this show with many thousands of different products. Seeing as it would take us the better part of the year to review everything that we really liked, it makes much more sense to pick just a few of our favorites so you can get an idea of what we're excited about. There's also a good chance you'll see a few of these coming in to the shop next year... So now, please enjoy the:

On The Edge Tuning 2015/16 Gear Review
---
Ski Gear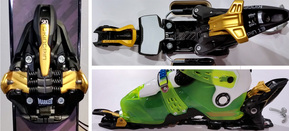 Marker Kingpin Tech Binding

Probably the most talked about tech binding since "The Beast", the Marker Kingpin combines lightness and efficiency with bomb-proof construction and excellent skiability. Some of the more interesting features are the 6-spring toe pieces instead of the standard 4, a ski/hike latch that can be switched with the boot in the binding (a first for the Marker touring line), and a full alpine-style heel complete with forward pressure and a 2-stage climbing support. All of this comes together to produce one of the most solid-feeling tech style bindings ever designed. If you didn't look at your feet, you'd have no idea you were bombing the mountain in a lightweight touring binding. The attention to detail is apparent from the moment you step in. The adjustable toe guides make finding the pin-holes a snap no matter who made your AT boot. Then there's the heel. When you click in a normal tech binding and feel the play from the heel pins, there's that little piece of your brain that thinks "Well, hope it holds..." But in the Kingpin, it's like shaking hands with an old friend. You step your heel down, feel that active forward pressure spring slide back, get the familiar alpine lockdown, and you know that it's good to go.


22Designs Outlaw NTN Binding

This latest creation for the folks at 22Designs is chock full of firsts: 1st NTN binding built by a company other than Rotefella, 1st NTN binding made in the USA, 1st NTN with binding with true resistance-free touring, and 1st NTN with step-in capability. In typical 22Design fashion, the Outlaw is made to withstand relentless abuse and return nothing but complete control and stability. The relatively simple design means it's reliable, and that goes a long way when you're spending a lot of time in the backcountry (which you will when you see how well it tours...) Over all, NTN technology keeps showing signs of gaining momentum with the Telemark community, and this binding is definitely pushing in the right direction.

Fischer Profoil Skins

Anyone who has spent time in the backcountry knows the value of increasing efficiency. This new innovation from Fischer will not only help you get to the top faster, but will increase your comfort and speed along the way. The secret lies in the base material that is lightweight and waterproof and has an extremely low coefficient of friction. The result is a longer stride, unbeatable gripping power, and a skin that doesn't absorb water and therefore remains light and dry in all conditions. The only way these skins would be more efficient is if they pulled you up the mountain... or made you breakfast.

Meier Madam

We've heard rumors about this ski and they're finally coming true. This women's specific powder ski not only looks fantastic, but boasts some impressive numbers as well: 169cm long, 118mm waist, 13m turning radius, and weighs a featherlight 2lbs 15 oz per ski. The Full-Rocker design creates an effortless feel on groomers and a giddy playfulness in the soft stuff. Whether on or off-piste, if you spend the summer dreaming of bottomless powder, you'll have to check this one out!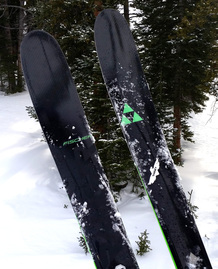 Fischer Ranger

While it's nearly impossible to find a ski that is strong enough to charge hard at the resorts and that can double as your everyday backcountry tourer, the brand new Ranger line from Fischer comes pretty darn close. The channeled beech/poplar core is combined with Titanal reinforcements, a Carbon-Fiber tip and just about every other bit of new technology Fischer can throw at it (which, believe me, we could spend all day talking about...) All of that may sound awesome on paper, but how does that translate to the snow? Typically, stiffness + lightweight = chatter. So does it? Well... Yes. But (and that's a big but) You never have the sensation that you aren't fully in control. Yes, the tips may flutter a bit when you pick up some decent speed, but the ski is so finely balanced that you never feel like you can't keep pushing it. The end result is still a ski that will go wherever, whenever, and however the driver wants, and with width options of 90, 98, and 108mm underfoot, there's definitely something for everyone. If you can dream it, the Ranger can do it.

---
Snowboard Gear

The following reviews were written by our good friend at Cranknstein, Evan Rau.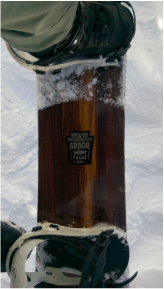 Arbor A-Frame

The Arbor A-frame is always a favorite, and this year was no exception. I really should try to demo a wider variety from Arbor, but I just can't get enough of this board. Predictable carving and high speed stability, yet highly maneuverable and quick in the trees. The thing seems to know its way through the dense and shady with or without me. It was a little stiffer than I remember it being in the past, but in a good way that only seems to add to its carving prowess. Beautiful as always, Arbor continues its tradition of combining beauty and function to produce soulful, intuitive boards.



Flow Maverick

The Maverick from Flow was fun all afternoon, and I held onto it long enough to totally smoke my legs. It demanded to be pushed hard, constantly shouting, "go faster!" over the roar of the wind blowing past my ears. I think the board was a little disappointed that I didn't take it into deep powder, because on the frontside, it primarily wanted to go base flat straight down the mountain. It handled trees surprisingly well for its bent on terminal velocity, but it was a little tough to handle in there. I tended to go blasting through tight gaps praying for survival, rather than surfing around them. Overall, a solid-feeling board, and lightweight for its manners and stability. I'd love to take it into a back bowl at sunrise after an overnight dump.



Rodin Split

Ah, the Rodin Split. A splitboard with the ability to downhill ski. I am quite intrigued at this little number, as I would like my gear to be a bit more versatile in the backcountry, but I'm not a good enough skier to go straight to and AT setup, nor am I interested in saying goodbye to my snowboard. As with all splitboards, I am concerned about stiffness and responsiveness, but I must reserve judgment, as I have yet to ride one of these setups. I will jump at the chance if I get it. I didn't see anyone near these boards at the show, nor was there a Rodin booth, as far as I could see. I'll keep my eyes open for this to show up again, though, and I'll be there in line with my boots on.